(Originally published July 30, 2018)
Your defensive possession isn't over until you secure the rebound. There's no doubt that players who can dominate the boards are integral to any basketball team. On the other end of the floor, offensive rebounds can give a team another opportunity to score. In this year's league, we've seen Rebekkah Brunson officially take over as the top rebounder all-time, currently with 3,348 total rebounds in her 15-year career. Active players are dominating the boards in ways not seen before; in terms of total rebounds, Sylvia Fowles, Tina Charles, Candice Dupree, and Sancho Lyttle are all in the top-10 all-time with years ahead to move up.
Rebound Percentage
Minimum 3000 minutes
| | Player | Years | Team(s) | Rebound Percentage | Minutes | Rebounds |
| --- | --- | --- | --- | --- | --- | --- |
| 1 | Cheryl Ford | 2003-2009 | DET | 20.454 | 5,574.6 | 1,907 |
| 2 | Courtney Paris | 2009, 2011-2018 | ATL/TUL/SAC/DAL/SEA | 20.159 | 4,422.08 | 1,512 |
| 3 | Sylvia Fowles | 2008-2018 | CHI/MIN | 19.384 | 9,096.1 | 2,918 |
| 4 | Rebekkah Brunson | 2004-2018 | SAC/MIN | 18.092 | 11,355.7 | 3,349 |
| 5 | Jayne Appel-Marinelli | 2010-2016 | SAN | 17.873 | 4,451.7 | 1,326 |
| 6 | Lisa Leslie | 1997-2006, 2008-2009 | LAS | 17.494 | 11,638.6 | 3,307 |
| 7 | Natalie Williams | 1999-2005 | UTA/IND | 17.477 | 6,882.9 | 1,832 |
Data courtesy of Across the Timeline
In terms of rebounding percentage, Cheryl Ford leads all-time, but active players Courtney Paris, Fowles, Brunson, and Charles are all top-10. Perhaps with the exception of Fowles, these players all prove that being the greatest rebounder is not always about being the tallest player on the court. Brunson is an athletic 6'2 power forward with great timing. And, in the history of the league, it's hard to find a player more athletic and better at using their strength and ability than Natalie Williams.
• • •
Natalie Williams was born in Long Beach, California, but her legacy in Utah started when she attended Taylorsville High School, leading both the volleyball and basketball teams to state championships. Her dominance started in high school, as the following feature from those days demonstrates: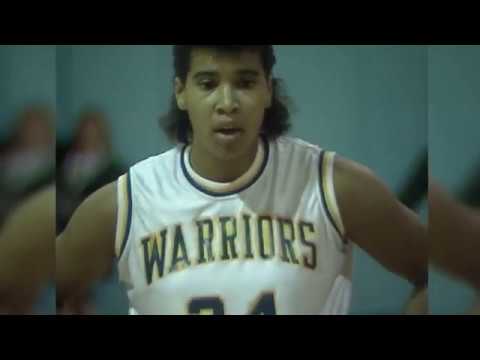 Though she has said her basketball role model was USC great Cheryl Miller, the 6'2 Williams took her talents as a two-sport standout to UCLA. She was a scholarship player on both the volleyball and basketball teams, the rare athlete to excel in two sports in college.
From 1990 to 1994, she dominated at both sports — even having played for both squads in the same day — leading the Bruins to the 1990 and 1991 National Championships in volleyball and earning All-America honors. Her skills were so extraordinary, she was also recruited for the softball and track-and-field teams during her time on campus. All the while, she was a two-time All-American in basketball, All-Pac-10 her last three years in school, and 1994 Pac-10 Player of the Year. In her freshman year, she established herself as a force on both ends of the court, averaging 23.4 PPG on 57.0% shooting from the field, 13.1 RPG, 3.0 SPG, and 1.0 BPG.
With a tremendous leaping ability and strong build, she won the boards consistently. She had six games with at least 20 rebounds, getting 32 points and 25 rebounds in a game against Arizona State her senior year. She left LA with 68 double-doubles during her time there, including 10 in a row in the 1992-93 season, and she is still top 10 in points, rebounds, field goals (total made and percentage), free throws, and blocks. Coming out of college, she was considered a lock for the 1996 U.S. National Volleyball Team.
But, when she didn't make the team, she turned her attention wholly to basketball, and 1996 was a great year for that. She was the leading rebounder (7.0 per game) for the 1996 U.S. Jones Cup Team which won gold. That same year, the ABL tipped off its first season in the winter, and Williams joined the Portland Power.
In her first season, she led the league with 12.5 rebounds per game, and on January 9, 1998, she had a league record 22 rebounds in a game. Though she was traded to the Long Beach Stingrays in 1998, the team folded shortly thereafter and she returned to the Power until the league ceased operations. In those years, Natalie was a 1998 ABL MVP and two-time All-ABL First Team selection.
Then, she turned her attention to the WNBA. In 1999, she was drafted third overall by the Utah Starzz, and Williams got the chance to return back home.
Though the Starzz struggled to find their footing in the early years of the league, Natalie's arrival made an impact. By 2000, they had the league's sixth-best record, but the tough Western Conference in the old Playoff format meant they were left out as fifth-best in the West. Regardless, Williams had her best WNBA season statistically, putting up 18.7 PPG on 49.0% shooting from the field and nearly 80% from the free throw line, 11.6 RPG, 1.8 APG, and 1.2 SPG. She put up a 20.8% total rebounding percentage and a 25.7 PER, which was fourth-best in the league.
By the following year, the Starzz finally made the Playoffs, though they lost 0-2 in the Conference Semifinals. In 2002, Natalie recorded the league's first 20/20 game, putting up 22 points and grabbing 20 rebounds. The Starzz made it to the Conference Finals before falling to the eventual champions, the Los Angeles Sparks. After the 2002 season, Natalie was traded to the Indiana Fever, a move that would take her far from the more familiar West Coast. Having worn #24 in Utah, Natalie changed to #12 upon joining another legendary #24, Tamika Catchings.
She continued to average double figures in scoring in 2003 and 2004 in Indianapolis alongside 7.5 and 6.9 rebounds per game, respectively. She started all 102 regular season games for the Fever in her three-year tenure, helping lead the Fever back to the Playoffs in 2005, where they would eventually fall to the Connecticut Sun in the Conference Finals.
By the end of her career, Natalie had racked up four All-Star nods (1999-2001, 2003) and three-straight All-WNBA First Team selections. During her professional playing career, she was also part of the 1998 World Championship team, earning gold while averaging 12.3 PPG and a team-best 9.6 RPG. After being named the USAB Female Athlete of the Year in 1999, she finally got her shot at the Olympics in 2000, once again earning gold for the United States. She finished out her time with the national team with gold in the 2002 World Championships.
After just seven seasons in the league, Natalie left her mark on the record books, and her name still shows up all over the leader boards:
| Statistic | Career Value | Career Standing |
| --- | --- | --- |
| Offensive rebounding % | 14.2 | #3 |
| Rebounds per game | 8.3 | #6 |
| Total rebounding % | 17.4 | #8 |
| Offensive rebounds | 733 | #13 |
| Player efficiency rating | 20.4 | #20 |
| Minutes per game | 31.1 | #23 |
| Total rebounds | 1,832 | #25 |
| Defensive rebounding % | 20.5 | #29 |
| Points per game | 13.1 | #32 |
| Offensive win shares | 21.0 | #32 |
| Offensive rating | 107.0 | #34 |
| Steals per game | 1.2 | #37 |
For her impact on the league, she was a finalist for the WNBA's All-Decade Team, Top 15 Players, and Top 20@20. Though she left the WNBA after the 2005 season, she has not left the game of basketball by any means. From 2005 to 2008, she was a WNBA regional scout and assistant coach for the Skyline High School (Utah) girl's basketball team, winning state championships in 2006 and 2008.
From 2009 to 2011, she served as a mentor for Athletic Quest, a recruiting service which helps prepare athletes for college. Williams got her first head coaching gig with the Juan Diego High School girl's basketball team, and in 2013 she was named the UHSAA 3A Region 10 Girls Basketball Coach of the Year, adding to her collection of accolades. She finished her time there with a 55-11 record overall before moving on to found the Natalie Williams Basketball Academy (NWBA).
As Director and Head Coach, Williams oversees 14 youth teams and five elite high school club teams, scheduling camps and organizing tournaments. The NWBA mission is to "empower young athletes of all ages through positive and fun training," and Natalie continues to impact the next generation of women's basketball stars.
Perhaps one day one of her players will challenge her spot on the WNBA record books, but they can't take away her spot in the Women's Basketball Hall of Fame, where she was inducted in 2016 alongside fellow NCAA and WNBA great Jackie Stiles.
Rarely is a professional athlete's journey through sports perfectly linear, and that's especially true for those in the early days of the WNBA. However, whether it's from missing out on the 1996 Olympics, from the ABL folding, or from being traded away from her home state, if Natalie Williams demonstrated one thing over her basketball career, it's this: she can rebound.
• • •
Career statistics courtesy of the Across the Timeline WNBA Record Index and Basketball Reference.