(Originally published November 11, 2018)
Last season saw coaching greats Geno Auriemma and Sylvia Hatchell eclipse the 1,000-win mark on their careers, inching up on the women's basketball record 1,098 wins held by the legend Pat Summitt. C. Vivian Stringer is now just one win away from 1,000 this season, and just behind her are the retired Jim Foster and Jody Conradt, both with 900 wins or more, and defending national champion coach Muffet McGraw will look to hit that mark this season.
But when you go down the list of Division I coaching greats, there's a coach with 865 wins who is too often overlooked. Today's "And One" profiles former University of Montana Lady Griz head coach, Robin Selvig.
Big Sky Born and Raised
Several of the most successful Division I coaches have started and ended their careers with the same school, but few were born and raised in the state where they made their careers. Selvig comes from a small city just south of the United States-Canada border called Outlook, Montana.
A tremendous athlete in his own right, he won the state long jump title as a junior; he followed that up with wins in the long jump, triple jump and high hurdles his senior year. He took his talents further out west to the University of Montana, where he played college ball from 1970 to 1974, playing the last years under legendary Michigan State head coach Jud Heathcoate.
During his time in Missoula, Title IX would become law in 1972, and Selvig has admitted he wasn't too aware of the Lady Griz program being built there during his time. Men's and women's athletic programs were still generally separated around that time.
Though he didn't know where it would take him, Selvig has said he realized he wanted to go in to coaching around his junior year, though even then women's basketball hadn't crossed his mind. He started in coaching while finishing his degree at Montana coaching the freshmen team in the 1974 – 1975 season. That following year would start his brief time away from the University of Montana.
In 1975, Selvig was hired on at Plentywood High School — just 20 miles southeast of his hometown — as coach of the men's basketball team. Or so he thought. When the previous coach decided to remain on for another year, Selvig was asked to instead take on the girl's basketball team which had not had any success in its first years. During that time he was also an assistant for the boy's basketball team.
A Grizzly Connection
When the University of Montana women's basketball coaching position opened up in 1978, the candidate pool was filled with future success. Tara VanDerveer interviewed in Missoula while looking for her first head coaching gig, as did Pat Dobratz. VanDerveer ended up at the University of Idaho before moving on to Ohio State and eventually Stanford, while Dobratz spent time in Washington before succeeding VanDerveer in Idaho, where she would make her name and compete yearly with Selvig.
Looking back, the opportunity to coach the girl's basketball team for a few years in Plentywood perhaps set his future path in basketball. That experience, along with his life-long Montana connection, landed him the job as the fourth Lady Grizzlies head coach starting in 1978.
And so began the process of building a perennial success out west, which didn't take long.
Coming off a 7-13 season, the Lady Grizzles finished Selvig's first year even at 13-13, and just two years later he'd notch the program's first 20-win season at 22-8, followed by a 22-5 finish. The following year the Mountain West Athletic Conference was formed with the University of Montana as an inaugural member, and Selvig and the Lady Grizzlies' success on the national stage began.
Conference Dominance
Many people look for 20-win seasons to indicate years of success. For the Lady Grizzlies through the '80s and '90s, that was simply the standard. After two years of 22 wins each, Montana won their conference with consecutive 26-4 seasons, including trips to the NCAA Tournament and a first-round win in 1984.
After finishing 1984-1985 season 2nd in the conference with a 11-3 league record, Selvig and team finished off the '80s with just two more conference losses and six more finishes atop their conference, including the merger into the Big Sky Conference, where Montana competes to this day. Selvig was named the Mountain West Athletic Conference Coach of the Year each year except 1985.
Despite what could be considered a rough start to the '90s with two second-place finishes for the Lady Grizzlies, those early years featured perhaps their most dominant player, Shannon Cate (now Schweyen), who was named a Kodak All-American in 1991-1992 and remains their all-time leading scorer with 14 30-point games (including a program-record 41-point performance) and 2,172 career points scored. They once again made the second round of the NCAA Tournament behind Cate.
They resumed their conference dominance by finishing first in the Big Sky from 1993 to 1998. From 1985 to 1998, they finished each season with at least 23 wins including nine seasons of 25 wins or more.
The 1998-1999 season would be the worst in Selvig's 38-year career, finishing 12-16 and 5th in the conference, but it was just one down year. The following year he led Montana to another 22-win finish atop the Big Sky Conference. Over the years, Selvig was noted for his on-court personality, pacing up and down the floor and passionately coaching from the sidelines. He turned Dahlberg Arena in to a feared place to visit in women's basketball, going 511-61 at home.
Leaving a Legacy
In the summer of 2016, looking ahead to the following season, Selvig has said he didn't feel the same excitement he had in the past. And he knew it was time to move on. He announced his retirement on July 27, 2016 after 38 seasons as Lady Grizzlies head coach.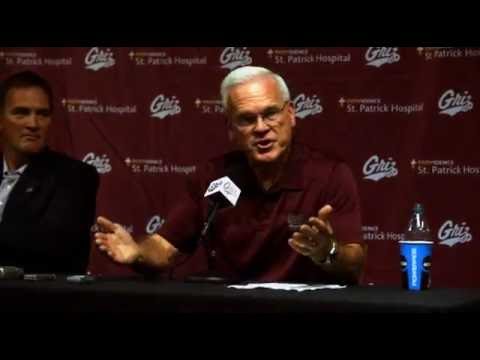 He finished with an overall record of 865-286, good for 10th all-time in NCAA women's basketball coaching history for number of wins and a 0.752 winning percentage, 14th all-time. Along the way, he compiled a number of conference feats:
21 conference Coach of the Year honors

34 all-conference player honorees

14 Big Sky MVPs

23 regular season conference championships

21 conference tournament championships
Selvig led the Lady Grizzlies to 21 NCAA Tournament appearances, including 7 second round games.
Along the way, Selvig was assisted on the bench by former players. Annette (Whitaker) Rocheleau spent 32 years on Selvig's staff after playing for him in his first few years as head coach, and Trish Duce coached with him for over 20 years after playing for him in the early '90s. Shannon Schweyen (formerly Cate) spent 24 years as an assistant to Selvig before taking over the Lady Grizzlies program in 2016 following his retirement.
And that is perhaps his greatest contribution to the game: just as he was brought on as a native of the area to continue the university's tradition of building programs around the state's best, he built the majority of his rosters and staffs from the best the state had to offer.
In that sense, he built a culture of success that brought 865 wins to not only the university but the state of Montana itself.