No games in the WNBA today, so we're on to the eighth edition of Classic WNBA ABL Monday. In case you missed any of the first seven:
---
We're coming up on the last few weeks of the WNBA regular season, so I want to start getting in to postseason basketball...with a twist. Instead of a classic WNBA Playoffs game, I stumbled upon a 1998 ABL Finals game that's a fun watch. In fact, it's the deciding Game 5 of the 1998 ABL Finals.
The Columbus Quest were trying to defend their title from the inaugural ABL season, but the Long Beach StingRays had taken the first two games of the Finals series. The Quest tied it up by taking Games 3 and 4, bringing us to this winner-take-all Game 5.
This isn't a WNBA game, but the WNBA/ABL crossover here is particularly deep.
The Quest are coached by Brian Agler, who had a long career in the WNBA with the Minnesota Lynx, Seattle Storm, Los Angeles Sparks, and most recently the Dallas Wings. Maura McHugh is head coach of the StingRays, and after the ABL folded, she moved over to the Sacramento Monarchs, where she'd eventually take over as head coach.
Among the players, there are a ton of recognizable names, Hall of Famers even: Katie Smith, Shannon "Pee Wee" Johnson, Valerie Still, Tonya Edwards, and Andrea Lloyd among the Quest; Yolanda Griffith, Venus Lacy, Clarissa Davis-Wrightsil, Andrea Nagy, and many more star for the StingRays.
Tracy Warren and Debbie Antonelli are on the call for this one, with Heather Cox on the sideline.
Now, the quality on this video is not great, but you can still discern a lot of the play. However, if I mix up a player here or there, I apologize. Additionally, the game clock on screen is frequently missing or difficult to read, so I've only included video timestamps in my links in the notes.
Click here for the game: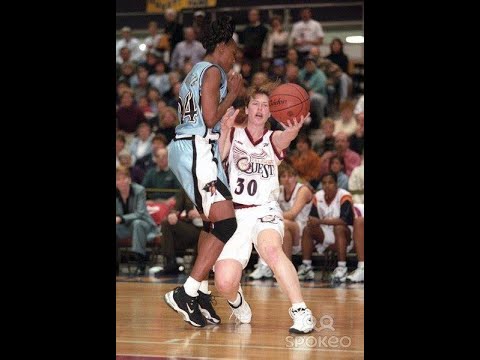 My notes:
4:58: Valerie Still pops out for an easy baseline jumper off the baseline out of bounds. Still really owned the ABL postseason.
After that basket, the game immediately gets chippy. A double foul, but the physicality doesn't end there, and Long Beach struggles with it on the offensive end.
9:30: Yolanda Griffith (ABL Defensive Player of the Year) wasn't just a great defender in the post. She picks up the offensive foul on Tonya Edwards, current Chicago Sky assistant coach. The next play, Shannon "Pee Wee" Johnson gets it right back. Fox's "Hot Mic" segment then picks up head coach Maura McHugh telling her players "That SUCKED. I know that call was terrible," which I personally would like to see more of.
12:50: The StingRays are just doing nothing to deal with Still popping out for these midrange shots. In transition, when she makes the right read, they have no chance of stopping her.
15:08: Starting here, Yolanda Griffith gets buckets on back-to-back Long Beach possessions, and they couldn't be more different. A 10-foot jumper and then a lay-up in transition really shows you the versatility of Yo. The WNBA better watch out a year from now (she'll go on to win WNBA Defensive Player of the Year and MVP in 1999).
18:52: It doesn't matter if your nickname is Pee Wee. With this speed and a good screen on the baseline, you can still score inside.
25:33: A new look from Still, this time driving to the basket from the left wing off a pass. 36 year-old Still and 35 year-old Cynthia Cooper dominating their respective leagues at the same time is really something.
26:24: This steal/save is wild. Great hustle from Sonja Tate, and of course it eventually results in Still getting to the basket. Griffith's third foul is huge.
32:25: Nifty one-on-one handling from Niesa Johnson here, followed by the scoop shot for the score. As Antonelli says not long before this, they're having to work hard for everything. (Side note: I love that Niesa Johnson went from the Long Beach StingRays to the Charlotte Sting. Consistency.) Sonja Tate matches her immediately on the other end.
There's a long stretch here where scoring is at a premium. It's physical, both defenses are keeping the other team from running any kind of smooth offense. As McHugh says, "every possession is key." If you like watching teams walk back and forth across the court to shoot free throws, don't miss this segment of the game!!!
47:25: We had gotten a good number of McHugh timeouts, but now we get to listen in on Brian Agler talking nothing but defense, of course. Switching everything, playing soft, protecting the basket. Unfortunately, Traci Thirdgill doesn't play it soft, and Cass Bauer gets free throws.
50:08: Now McHugh trying to predict what Agler's going to run. She's essentially drawing up the Quest play and prepping her team with a couple of offensive options if they have time left.
51:42: It ends up with Davis probing inside and Johnson once again smartly letting the defense drift away from her on the left wing and then cutting to the basket. Great late score. The StingRays can't answer with anything better than a heave from halfcourt to end the half. Tied at 33.
Some halftime notes: Lin Dunn is Coach of the Year and Natalie Williams is MVP, both in Portland. And, notably in this game, the three-point revolution has yet to come:
56:43: Andrea Lloyd passes off to the left wing as Valerie Still cuts over for a long two on the right wing, protected by Lloyd screening the defenders trying to run out on her from the paint. Great start to the second half.
58:59: Very similar look from the other side, this time off a baseline out of bounds for Davis-Wrightsil, protected by Lacy. Same result, two points, this time for the StingRays.
59:14: Katie Smith does a great job relocating for the three, finding just the right spot to get space from her defender and to be in a good spot for the pass. Big three for her first points of the game. Stick around for Venus Lacy with a trail, uhm, free throw line two. A pair of past and future Olympians get on the board.
There's a lot of talk of Andrea Lloyd retiring at the end of this season, but don't fret: she'll head over to the WNBA for a couple more seasons first. In fact, they just about tried to recreate with Columbus Quest in Minnesota, as Lloyd, Katie Smith, Tonya Edwards, Sonja Tate, Angie Potthoff, and Trisha Fallon all played for the Lynx under head coach Brian Agler. It didn't go as well in Minnesota.
1:04:34: Davis-Wrightsil runs the right side of the floor perfectly in transition, Nagy spots her, and the Quest don't seem to notice until it's too late. Swish.
1:05:56: Still can score from anywhere. She just spots up beyond the three-point line near the left sideline. Smith sees her, drives the ball in just enough to pull a defender, and kicks it out. The StingRays just don't have a good matchup for her; she's too versatile. Griffith is the best option, but with four fouls, there's little she can do in that situation.
1:06:23: Then Katie Smith runs the floor and gets rewarded with a big transition three. The crowd loves it.
1:07:52: Lacy: she's too strong.
1:09:47: Sonja Tate has had great buckets at key moments in this game. I believe that's Still posting up/screening off her defender, which opens up a great lane for Tate to get all the way to the basket, and one.
1:11:53: Smith getting hot now. The Quest are really patient with it here to make Long Beach work on defense and get a great three for Katie Smith.
1:15:37: The defense gets so caught up on Shannon Johnson driving toward the basket that Sonja Tate is left open for a baseline three. Swish.
1:23:57: The Quest just lose Williams here as they're trying to match up, but she has been really good of late in this game. They needed more long shots like this one to clear up the paint for Lacy and Griffith.
1:27:25: Lacy gets great position here, and the pass is spot-on. She's too strong for anyone to guard that one-on-one.
1:29:40: This next Quest possession is just Shannon Johnson at her best. She recognizes the transition play isn't the best option, and then when she gets the ball back with the side cleared out, she's able to get Nagy on her heels and drain the jump shot.
1:32:17: This defense. Johnson gets right up in to Nagy and fouls her out. Katie Smith loves it.
1:38:28: Wilkerson with the steal here, and it ends up in a tough transition, but Davis-Wrightsil can't miss. She has carried the StingRays offensively.
1:39:46: Watch the entire city of Columbus swarm around Yolanda Griffith when she gets the ball. This possession is a perfect example of how important it is for her to have stayed on the floor in this game, but it's like the Quest forgot Davis-Wrightsil is on fire right now. Swish.
1:43:26: I, too, would continue running the "Get the ball to Davis-Wrightsil" play down the stretch. Swish.
1:51:00: This may be the only time I ever point you to a free throw. Still makes it and transitions perfectly in to her celebration.
---
That's it for today. Enjoy the game, and enjoy your Monday!