No games in the WNBA today, so we're on to the seventh edition of Classic WNBA Monday. In case you missed any of the first six:
---
This is really a Classic WNBA Monday / Friday Firsts crossover. A couple months ago I wrote about Lisa Leslie becoming the first WNBA player to score 5,000 points, and the video of that game just went up, so I had to check it out.
The game was June 25, 2006, between the Los Angeles Sparks and the San Antonio Silver Stars at Staples Center. The Sparks were 10-3 coming in to this one, while San Antonio was 6-6. The Sparks were the best team in the Western Conference in the regular season, with the Sacramento Monarchs right behind them coming off their title in 2005. The Silver Stars were still struggling, trying to make their first postseason appearance since moving to Texas. It would take another year to get there.
The Silver Stars are led by their backcourt veterans Vickie Johnson and Shannon Johnson, with rookie Sophia Young already making a big splash. The Sparks were led by Lisa Leslie and deep with talent from Mwadi Mabika and Temeka Johnson in the starting lineup and All Star Chamique Holdsclaw coming off the bench with a very capable rotation you'll see in this game. Just as recognizable is San Antonio's coaching staff: Dan Hughes is the head coach, with assistants Brian Agler and Sandy Brondello at his side. Joe Bryant is in his first full season after taking over for Henry Bibby with six games remaining in the 2005 season.
The biggest story line here is Lisa Leslie entering the game with 4,999 points, on the precipice of becoming the first WNBA player to score 5,000 career points. The second story is her second half offensive explosion.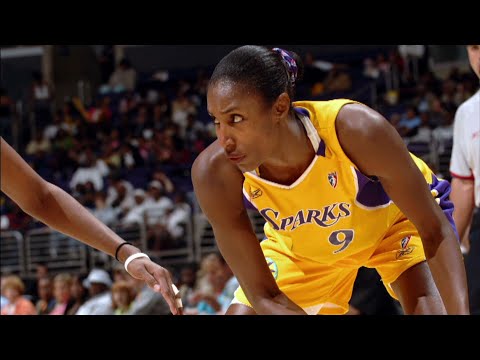 My notes:
6:25 2nd, 31:35 video: Like I said, San Antonio's play is the high-difficulty baseline jumper.
5:02 2nd, 34:41 video: Another long three from Bibrzycka. Her shooting is about all San Antonio has on offense right now.
4:26 2nd, 35:31 video: And the problem with that is she's going to miss some threes, and then the Sparks get out in their transition. This one in particular is special: Thomas rebounds, long rebound out to Lisa Leslie in the paint, and she gets the no-looker over the Murriel Page for the short baseline jumper.
2:47 2nd, 39:21 video: San Antonio just look a mess here, but Shanna Zolman is a shooter and manages to get herself open. Keep your eye on her on the next Silver Stars possession, too.
1:47 2nd, 40:21 video: There's talk in this game about Holdsclaw mulling retirement, but she's still got the moves, ending this one with a one-legged fade-away that I'd think reminds current WNBA fans of that shot Tina Charles loves.
At 6:32 to go in the 3rd quarter, Lisa Leslie has 16 points. I hate to spoil anything, but she finishes with 41, so just don't look away.
3:50 3rd, 56:54 video: That wouldn't be a bad shot for Mabika, but if you can lob the ball inside to Lisa Leslie for an and-one, that's a better shot.
1:41 3rd, 1:00:53 video: What an advantage to have both Lisa Leslie and Chamique Holdsclaw, who in this same game both get these steals on the perimeter and take them in to score. Holdsclaw gets fouled here, too.
2.1 3rd, 1:04:07 video: Doneeka Hodges-Lewis with a wild shot to end the quarter, the form of a runner/floater from a few feet outside the three-point arc.
6:57 4th, 1:12:21 video: Not sure we had seen Lisa get the inbound and drive it in like this in this game. If she'd dunk, I think she'd have shown every offensive move she has.
6:40 4th, 1:12:39 video: With the inside position Katie Feenstra has here, you have to get the ball to her, and Bibrzycka rifles it in perfectly.
3:38 4th, 1:17:39 video: Lisa Leslie gets the offensive rebound and putback with three San Antonio players around her. She's on a mission for the 40-point mark.
2:45 4th, 1:18:32 video: When I said earlier Lisa could cap off her full set of offensive moves, I didn't even realize this transition scoop shot was an option. Holdsclaw with the great outlet pass. Mood:
The game cuts out a little early, but not before Lisa Leslie goes to the bench for the final time in the game to a great ovation from the crowd. Her final stats in this one:
41 PTS
16-23 FG (69.6%)
2-2 3P (100%)
7-9 FT (77.8%)
13 REB
3 AST
3 STL
1 BLK
At the time, it was the league's 5th 40-point game (Cynthia Cooper and Katie Smith each had two prior) and the first time a player had 40+ points and 10+ rebounds. Lisa is still the only player to have 40/10 and add on 3 steals in a WNBA game. She needed just one point to get to 5,000, and she took care of that early, but she showed out the rest of the way.
---
That's it for today. Enjoy the game, and enjoy your Monday!
P.S. In case you missed it, now's a good time to catch up on the most recent Friday Firsts: Andrea Stinson records the WNBA's first points/assists double-double.