Three of the WNBA's all-time great rebounders – Sylvia Fowles, Tina Charles, and Jonquel Jones – have all been displaying their dominance this season, each likely to receive MVP votes in a few weeks. They are also each responsible for one of the top three rebounding seasons all-time:
| Rank | Player | Season | RPG |
| --- | --- | --- | --- |
| 1 | Sylvia Fowles | 2018 | 11.88 |
| 2 | Jonquel Jones | 2017 | 11.85 |
| 3 | Tina Charles | 2010 | 11.71 |
Go one rank deeper on the all-time rebounding charts and you'll find Chamique Holdsclaw with 11.6 rebounds per game in 2002 while playing for the Washington Mystics. Not only did she lead the league in rebounding that year; she also led all players that year with 19.9 points per game.
Holdsclaw in 2002 was the first player to finish a WNBA season leading in both scoring and rebounding.
Let's dive in.
---
Every Friday I'm diving in to a WNBA first in a series I've creatively titled Friday Firsts. If you missed the first six Friday Firsts posts, go back and check them out:
---
Standing out in a crowd
The Tennessee Lady Vols had a trio of national championships before Chamique Holdsclaw came along, so it could be overwhelming for a player to live up to the legacy Pat Summitt's program had amassed. Holdsclaw tripled it.
As Wendy Smith wrote in The Tennessean in 1999, Holdsclaw "adjusted to life and basketball at Tennessee" immediately, becoming the "first freshman to start every game for the Lady Vols."
After the rival Connecticut Huskies rose to the top of college basketball in 1995, Holdsclaw led the Lady Vols back to the top, winning three consecutive titles (1996-1998) while being named a four-time All-American and twice the Player of the Year. She finished her career with a Tennessee-best 3,025 points and 1,295 rebounds while shooting 51% from the field.
The best player perhaps the most storied college basketball program had seen, her entry to the professional level was unique. The WNBA was set to enter its third year, just after the rival ABL had folded. Contentious negotiation of the league and players association's first Collective Bargaining Agreement (CBA) pushed the 1999 WNBA Draft back to early May, but the top pick remained certain all the way through.
While teams were allowed up to three former ABL players – Orlando and Minnesota, expansion franchises that year, were allowed five – Holdsclaw still stood out at the top, seen as a game-changer for the Washington Mystics, who were coming off a dismal 3-27 first year.
Against the likes of Natalie Williams and Yolanda Griffith, the former ABL MVP and Defensive Player of the Year, respectively, Holdsclaw was taken first overall by the Mystics. The next big name had arrived to the WNBA.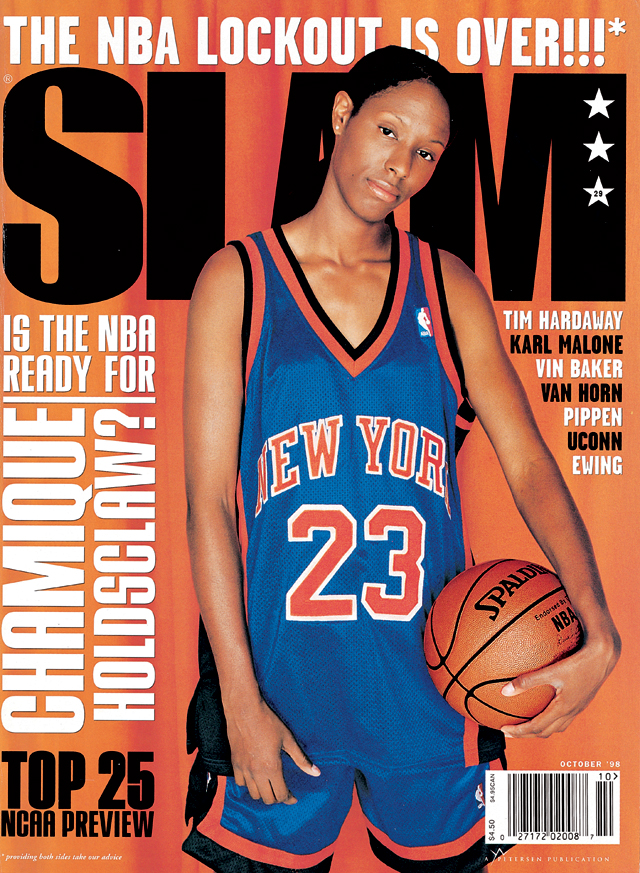 Washington continued to struggle – and, really, the Mystics never had a ton of success until the 2010s when Mike Thibault took over – but Holdsclaw stood out immediately. She was a starter for the Eastern Conference in the WNBA's first All Star Game in her rookie year, and she was selected as an All Star starter in each of the four years following, too.
Though the Mystics finished the 1999 season 12-20 and again out of the Playoffs, Holdsclaw finished the year averaging 16.9 points, 7.9 rebounds, and just over a steal per game. She was not only Rookie of the Year, but she made the All-WNBA Second Team in her first year. Holdsclaw led the Mystics in rebounding and trailed only fellow Lady Vol Nikki McCray in scoring in that first year, but after returning from winning Olympic gold in Sydney in 2000, it was wholly Holdsclaw's team.
By 2002, under Coach of the Year Marianne Stanley, Holdsclaw had found her rhythm. On June 25, 2002, she had 29 points and 21 rebounds – the second 20/20 game in WNBA history – and the game-winning three to propel the Mystics over the Sacramento Monarchs in overtime.
As much individual success as Holdsclaw had, her basketball career was just as mired in adversity (I'll have some great links on that at the end), and that 2002 season was no different. Just three nights later, Chamique's game was cut short as she suffered a high ankle sprain, and she didn't return to the court for another month.
The comebacks were always huge: 32 points, 11 rebounds, and 4 assists in just under 29 minutes played against Seattle. That year was the Mystics' best to that point, finishing with a run to the Eastern Conference Finals, where they fell to the New York Liberty 2-1.
Leading up to the postseason, Chamique closed out the regular season with a string of high-scoring, high-rebounding games, culminating in her league first: with 19.9 points and 11.6 rebounds per game, Holdsclaw was the first player to lead the WNBA in both scoring and rebounding in a season. Next closest behind her in the scoring column was her former teammate at Tennessee, Tamika Catchings, with 18.6 per game. Future Sparks teammate Lisa Leslie was just behind her in rebounding with 10.4 per game that year.
Holdsclaw improved her scoring the following year, putting up 20.5 per game for the Mystics, but Lauren Jackson led the league in scoring that year with 21.2 per game for the Storm. Chamique repeated as rebounding champion (10.9 per game).
She played another partial season with the Mystics in 2004 and was traded to the Sparks the following season, and she played three seasons there before announcing her retirement. However, she came out of retirement to play for the Atlanta Dream in 2009 and the San Antonio Silver Stars in 2010 before ultimately calling it a career in the WNBA.
Following in Chamique's footsteps
Since 2002, two other players have led the WNBA in both scoring and rebounding in the same year (min. 20 games):
| Player | Season | Team | PPG | RPG |
| --- | --- | --- | --- | --- |
| Chamique Holdsclaw | 2002 | WAS | 19.9 | 11.6 |
| Lauren Jackson | 2007 (MVP) | SEA | 23.8 | 9.7 |
| Tina Charles | 2016 (MVP runner-up) | NYL | 21.5 | 9.9 |
Despite her injury, Holdsclaw finished fourth in MVP voting in 2002, behind Sheryl Swoopes (MVP), Lisa Leslie, and Tamika Catchings. Chamique is also one of eight players to have finished a WNBA season averaging 15+ PPG and 10+ RPG:
| Player | # Seasons | Seasons |
| --- | --- | --- |
| Sylvia Fowles | 5 | 2011, 2012, 2013, 2017, 2018 |
| Tina Charles | 4 | 2010, 2011, 2012, 2013 |
| Yolanda Griffith | 3 | 1999, 2000, 2001 |
| Lisa Leslie | 3 | 1998, 2002, 2003 |
| Chamique Holdsclaw | 2 | 2002, 2003 |
| Candace Parker | 2 | 2010, 2015 |
| Natalie Williams | 1 | 2000 |
| Jonquel Jones | 1 | 2017 |
Both Jonquel Jones (20.27 PPG / 11.05 RPG) and Sylvia Fowles (16.56 / 10.28) are on track to repeat that feat this year, and Breanna Stewart (20.74 / 9.81) is still in reach. Three players each with 15+ PPG and 10+ RPG in one season would be a league record.
More on Chamique
Finding history