At halftime of today's UConn/Iowa matchup the Women's Basketball Hall of Fame announced the inductees named to their Class of 2023, a special moment as Carolyn Peck was in studio when her name was called. The five-member class is:
Cathy Boswell (Veteran Player)
Donna Lopiano (Contributor)
Lisa Mattingly (Official)
Carolyn Peck (Coach)
Lindsay Whalen (Player)
Also to be honored are the 2023 Trailblazer of the Game recipient, the Women's Basketball Coaches Association (WBCA), and the For the Love of the Game recipient, the Dust Bowl Girls.
Let's learn more.
Cathy Boswell (Veteran Player)
Cathy Boswell joins her former college coach, Illinois State's longtime leader and 2009 Women's Basketball Hall of Fame inductee, Jill Hutchison. Boswell played for Hutchison from 1979 to 1983, racking up 2,005 points and 1,054 rebounds.
She says in that post-championship article: "There's a lot of things I want to do. I want to go to college and I also want to play on our Olympic team if I'm good enough."
She was good enough. She played for Pat Summitt alongside Cheryl Miller, Janice Lawrence, Anne Donovan, and the rest of that 1984 Olympic gold medal-winning squad.
Cathy talked here about her lengthy overseas playing career, as well as a short stint back stateside in Atlanta with the American Basketball League (ABL) in the mid-1990s: https://www.findmyteam.com/blog-details/video-appreciating-the-opportunity-to-play-professional-basketball.
Reid Watkins went long on Cathy and her career here: https://www.videtteonline.com/sports/from-16-year-old-freshman-to-olympian-cathy-boswell-reflects-on-her-career/article_4a817bba-959d-11ec-a428-d743a36787c7.html
Donna Lopiano (Contributor)
Try to dig up Donna Lopiano's playing history in basketball, and you'll find instead a world-class softball player, a Softball Hall of Famer already. A ten year-stint with the Connecticut Brakettes ended when Lopiano took a job as assistant athletic director at Brooklyn College in 1972. Just a few years later in 1975 she was hired as the Director of Intercollegiate Athletics for Women at the University of Texas, where she worked until 1992, when she became the CEO of the Women's Sports Foundation.
Much has been written and said about what Lopiano fought for and built at Texas after the codification of Title IX and as Jody Conradt led Clarissa Davis-Wrightsil, Fran Harris, Andrea Lloyd, et. al. to an undefeated national championship season. She blazed trails and provoked thought in ways that benefit today's athletes and provide them a platform to continue to build upon.
However, don't let it be ignored what Lopiano has been up to more recently: as part of the Women's Sports Policy Working Group, Lopiano has worked alongside the likes of Martina Navratilova and Nancy Hogshead-Makar, the group dangerously questioning the participation of trans girls and women in girls and women's sports, shrouded in concepts of debate and "compromise." Plenty more on this from Blake Hereth and Sam Simpson at The Sun, Frankie de la Cretaz at Mother Jones, Lindsay Gibbs at Power Plays, and Natalie Weiner at Fanbyte.
Trans girls are girls. Trans women are women.
Lisa Mattingly (Official)
Nearly 40 years in the business, Lisa Mattingly is a mainstay of women's basketball, having officiated nearly 20 NCAA Division I Final Fours, including several championship games, along with a run of years working WNBA Finals.
She has not only worked games in all the major conferences but has served as coordinator of officials in many as well, trusted with the duty of covering games all over the country.
She tells more about a scary incident involving a fellow official while working in the WNBA and goes long in an interview about her career here: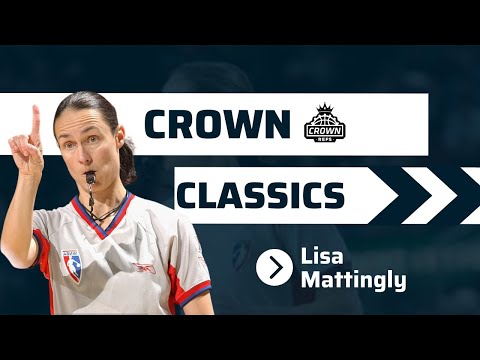 Carolyn Peck (Coach)
Carolyn Peck is a face and voice many around the game of women's basketball are used to, as she works as analyst and often in the studio for Division I college women's basketball as well as the WNBA. She is often the lead on SEC games, working in a league that she played in (at Vanderbilt in the late 1980s) and coached in (as an assistant on Pat Summitt's staff at Tennessee along with assistant and head coaching stints at Kentucky and Florida).
But Peck's most successful run came while taking over at Purdue during a turbulent stretch that saw quick changes in its head coach position. Lin Dunn was let go, and Nell Fortner took over. Fortner transitioned to USA Basketball, and Peck slid over to the top spot. She led Stephanie White, Ukari Figgs, and Katie Douglas to the 1999 national championship, cementing her place in history as the first Black woman head coach to win an NCAA basketball title.
Peck has made a habit of not just carving out her space, but making a way for future generations, figuring in to the story of Dawn Staley's path to the 2017 national championship as well.
Lindsay Whalen (Player)
You hear "Minnesota women's basketball," and you think Lindsay Whalen. As the face of the Gophers program in the early 2000s, she and Janel McCarville took their team to the 2004 Final Four before Whalen left for a legendary professional career in the WNBA.
Immediately in to the WNBA Finals, Whalen ran point for a deep and successful Connecticut Sun squad in their early years in Uncasville, but her most tremendous run of success came when she was brought back home to Minnesota to play for Cheryl Reeve and the Lynx. Four titles (2011, 2013, 2015, and 2017) and a record 377 total wins (regular and postseason combined), Whalen assured her spot on lists of the league's best players (including 2021's W25) for years to come.
Already a member of the Naismith Basketball Hall of Fame, Whalen has also earned her spot on the list of greatest induction speeches. Check hers out here: